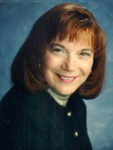 Brenda Vander Meulen, MM, SPHR, is principal and founder of River Hills Consulting. Her professional mission is to connect employees and customers through strategy and structure. Brenda has more than twenty-five years of professional experience as a consultant, trainer, and manager. Brenda has been consulting with corporate clients since 1996.
Brenda served in a variety of management positions over a period of 19 years with Herman Miller, Inc., ranging from positions in Customer Service, Financial Planning and Corporate Planning to Director of People Services for the Operations Group. During those years, she developed her skills in hands-on management and project leadership in strategic planning, organization development, diversity management, compensation design, employee involvement programs, team building, individual and group assessment, performance management systems and tools, training, EEO/AAP, and employee relations.
Brenda graduated magna cum laude with a Bachelor of Arts in Mathematics and Psychology from Hope College and earned a Masters in Management degree from Aquinas College. She is nationally certified as a Senior Professional in Human Resources by the Human Resources Certification Institute. Other training includes dialogue skills, systems thinking, cultural diversity, and self-organizing systems. Her publications include "Designing an Integrated Base Pay Delivery System" (Human Resource Professional, January/February 1997) and "Herman Miller Puts the ADA into Action" (Facility Management Journal, May/June 1992).
Brenda is a lead faculty member at the University of Phoenix Online, where she serves as Lead Faculty and Area Chair for Organizational Behavior and Human Resources in the Graduate Business and Management Program. She is also affiliated with the Society for Human Resources Management (SHRM), Organizational Development Network and WorldAtWork (formerly the American Compensation Association). She is also a member of the Association for Human Resource Management, the Grand Rapids, Michigan, chapter of SHRM. She is a charter member of the Consultants Forum, a professional emphasis group of SHRM, and served on its Board of Governors from 1998-2000. She is a frequent speaker on Human Resources issues both locally and nationally.