Creative Strategic Thinking: Using Consensys™ to Create the Future
The Process
Creative Strategic Thinking was designed for groups that are interested in re-thinking their future. Based on a "Backwards from Perfect" planning process, it is a powerful process for getting groups to see beyond traditional self-imposed limitations.
Future pull (Idea Generation): Creative Strategic Thinking begins with a Vision of what success will look and feel like. A group creates its Vision, Purpose, Economic and Service Missions. Working backwards from this idea, the group develops strategies, which are broad descriptions of what they did to achieve this success.
Opportunity Discovery (Idea Evaluation): Using the group decision-making software along with voting keypads, the group evaluates the relative importance and current performance of their strategies in ways that are not possible with other planning methods.
The Results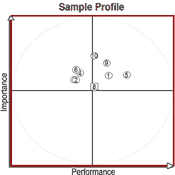 The result is an opportunity profile which shows the key areas of opportunity where further innovative effort would be most beneficial (see Figure 1). The opportunity profile is a key tool for allocating organizational resources to implement the strategic plan.
The Opportunity Profile pinpoints:

Immediate Opportunities: high leverage changes with high pay-off
Mid-term and Long-term Opportunities: potential strategies for the future
Givens and foundational strategies: critical and supporting strategies to hold constant
Over-kills: high performance areas with low pay-off
Problems: maintenance strategies in trouble
High-Risk Problems: vital problems to solve immediately

There is immediate feedback to the group. As soon as voting is completed, the group can review its consolidated results.
Once the initial results are reviewed, the group can move to consensus discussions. The goal of these discussions is to gain clarity about various issues and elicit important information prior to making final decisions. These discussions reveal three different kinds of disagreement:

Words that have different meanings for different people
Information that is unevenly shared
True disagreement
The Advantages
1. Idea Generation
Connects strategic planning to the Vision, Purpose and Missions of the organization
The focus is "backwards from potential" instead of "overcoming problems"
Builds belief something can be created that never existed before
The process ensures more innovation and creativity
A values review can be included, ensuring connections between corporate values and strategies
2. Idea Evaluation
More in-depth evaluation of strategies
Immediate feedback
Disciplined discussion of strategies
Open and honest discussions which lead to true consensus
Full and equal participation by all group members
Eliminates facilitator bias
Allows privacy so sensitive issues can surface
Clarifies and compares differences of opinion or perceptions held by various demographic groups
3. Meeting Management
Immediate documentation
The common peer experience builds strong ownership
Meetings are orderly and efficient
The technology lends an aura of "importance" to the meeting
4. New Learning
Provides new knowledge and understanding about the change process
Develops dynamic, creative and cooperative ways of working together